Ah! Springtime in beautiful Phoenix East Valley and our experts at Croc Painting Company are feeling inspired by the cheerful colors in bloom. All over the city, we are painting creative ideas for your home with sunny yellows, creamy oranges, and lush greens. The great thing about these types of colors is that when they're added to your home, they can evoke a feeling of happiness, laughter, contentment, and joy.
For your living room or family room, it's great to add a neutral pastel color, like Breaktime or Alabaster from Sherwin Williams. That way you can have pieces of furniture that bring the room together.
In the kitchen, you are not limited to just the walls, you also have the cabinets. For instance, if you have a light granite or white quartz countertops you can add more statement colors. Depending on your style and taste, of course, you can either go with Peppercorn for the bottom cabinets and then do a Westhighland White on top. Or you could do a simple white and have the cabinets a beautiful Sea Salt.
Bedrooms are our place to relax and catch some Z's, so we recommend having colors that help you do just that. A study taken by Travelodge found that those who sleep in a blue bedroom regularly woke up feeling happy but those who slept in a green bedroom had a feeling of being upbeat and positive. Colors like Hazel or Respite are great options to add to the bedroom to get that rested and happy feeling.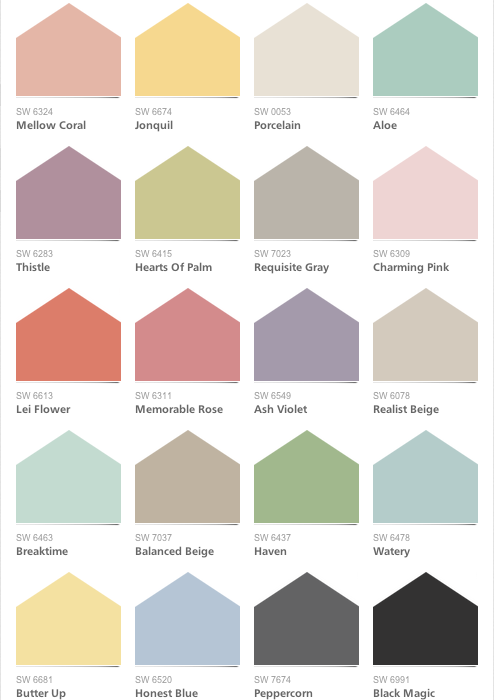 There are tons of color options to choose from, and if you want help visualizing the color in your space, try one of our color consulting tools. ColorSnap® Visualizer system by Sherwin-Williams gives you a preview of the color in a digital setting and takes the guesswork of what the whole room will look like. At Croc Painting Company, we are here to help you make your dream colors a reality in your home.
Give Croc Painting a call and get schedule your FREE consult today!