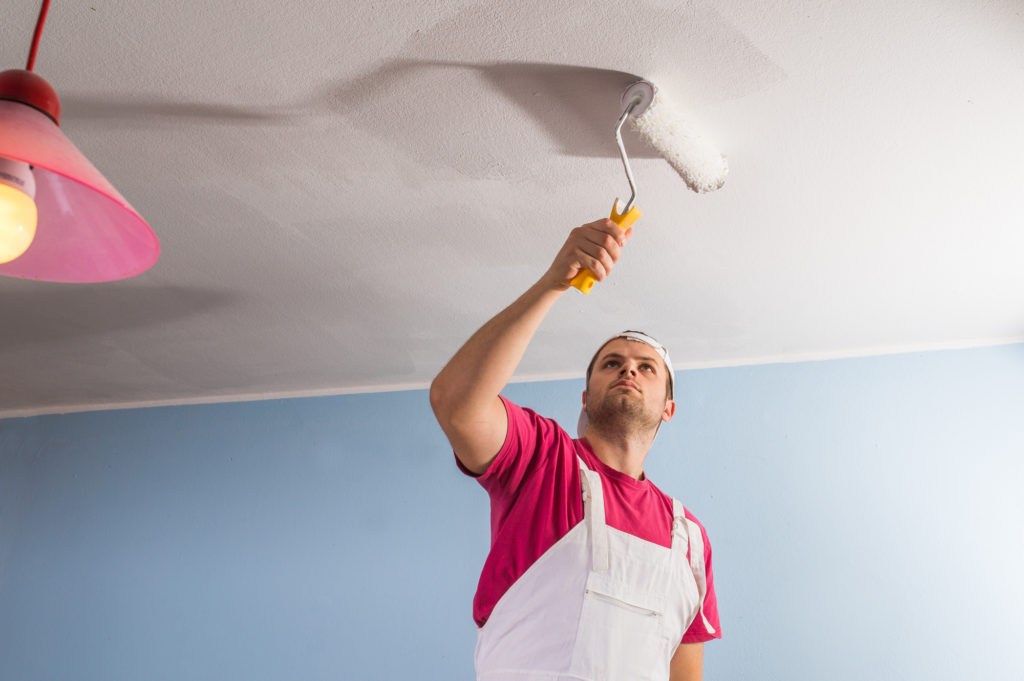 Have you ever stepped into an older house and wondered why they had stucco or popcorn ceilings?
This type of ceiling became very popular in the middle of the last century. A textured look could be cheaply and quickly applied to a ceiling using a sponge or hopper gun.
Sometime in the 1990s, this style became less trendy. More new homes were built with smooth or slightly textured ceilings like skip trowel or orange peel.
The problem is there are many homes built before the 1990s with popcorn ceilings, leaving homeowners with a choice of whether to upgrade to a more contemporary look.
Are you interested in learning about your options with popcorn ceiling removal? Keep reading below to learn how you can get rid of this texture.
We'll discuss whether you should remove it, how you can do it, tips on getting it done the right way, and finally how much it would cost to hire a professional.
Should I Remove Popcorn Ceiling?
Believe it or not, there are multiple factors to consider when deciding if you should remove your popcorn ceiling. As dated as it is, there are both pros and cons to having it in your home.
First, let's discuss the pros. Builders in the mid-1990s discovered that popcorn ceilings were both cheap and effective at hiding flaws. They could use it to cover cracks, leaks, or damage.
Another benefit of popcorn ceilings is that they cut down on sound in high-traffic areas. This is why you see it in many apartments or hotels.
And now the bad news. Popcorn ceilings are easily destroyed by moisture and can start falling off in your house. They make rooms appear smaller, and collect more dust and cobwebs (which aren't easy to clean on this texture).
Your biggest concern with popcorn ceilings should be asbestos. It was banned in 1979 yet it continued to appear in many construction jobs throughout the 1980s.
Before removing a popcorn ceiling on your own, scrape off a sample and have it tested for asbestos. Breathing this substance can cause cancer or severely damage your lungs.
Popcorn Ceiling Removal vs Popcorn Ceiling Hiding
There are mixed opinions about whether removing popcorn ceilings will increase your home's value. These ceilings are considered dated by today's standards and many buyers won't even look at houses that have them.
Opting for a cleaner and smoother ceiling will get more prospective buyers in the door. And if your real estate agent is savvy enough, a higher selling price.
You can remove popcorn ceilings easily on your own or hire a company to do it. If doing it yourself, be prepared to deal with a big mess as the soggy plaster falls on the floor.
But, there's another way! Some homeowners decide to hide the popcorn ceiling. This may take extra time but it's less messy and you don't have to worry about asbestos.
Simply cover your popcorn ceilings with a new layer of drywall. You'll need drywall, joint compound, paint, and a drywall lift to make it easier.
The best part of this technique is you can add holes in the ceiling for new light fixtures.
Tips on How To Remove Popcorn Ceiling
Have you decided to fix it yourself? Here are some tips from Architectural Digest on how to remove your popcorn ceilings:
Test for asbestos: As we explained above, test a sample of your ceiling for asbestos before scraping it off
Get the following tools: Garden spray, wide putty knife, drop cloth, painter's tape, ladder, goggles, and mask
Prepare your rooms: Remove all furniture, take off light fixtures, and cover flooring
Spray and scrape: Spray a 4 foot by 4 foot square of the ceiling until its damp and scrape with the putty knife
Fix any damage: Apply joint compound to any damaged areas, then sand the area before painting
When painting your new ceilings, consider a clean and classic white paint to complement your walls. Decide whether you want cool white, warm white, or pure white. And consider what finish would look best.
The total length of the removal project will depend on the size of your house and how many popcorn ceilings you have.
And here's some good news for you! It can be done by any homeowner regardless of their level of experience or comfort with DIY projects. This technique is pretty straightforward.
Popcorn Ceiling Removal Cost
If you don't feel like taking care of those ceilings yourself, or you don't have the time, you can always hire a professional to do it.
On average, homeowners spend between $1-2 per square foot to get rid of their popcorn ceilings. That amount will increase if they ask a contractor to texturize the drywall, add decorative tiles, or paint.
The price could get even higher if they discover your ceilings have asbestos or major structural issues to be addressed.
What are the other benefits of hiring a professional? For one, a team of workers can get the job faster than the one or two people living in your house.
They can also dispose of all the fallen plaster. And, trust us, it's a big mess that will need to be hauled out. Most importantly, they have dealt with these types of jobs before so they're less likely to damage the drywall while scraping.
As professionals, they can also apply the finishing touches that impress everyone who walks through your front door.
Stop Living With Your Popcorn Ceilings
Popcorn ceiling removal is an easy job to do on your own, but you can also hire a professional painting company to do it for you.
Croc Painting Company offers residential and commercial painting services for interiors and exteriors. We never subcontract jobs, and our team of experts is dedicated to customer satisfaction.
Croc Painting uses an effective interior painting process, provides color consultation, and meets with homeowners every step of the way.
We are now serving clients in Phoenix East Valley. Schedule a free quote now to learn what the Croc Painting Company can do for your home.